Music
Music is taught by Miss G, our specialist music teacher Miss G teaches across the school from Nursery to Year 6. We also enjoy sharing our love for singing during the weekly singing assemblies.
Weekly music lessons are lively and interactive that aim to foster a passion for music in children of all abilities; the music lessons aim to help all the children flourish in other areas of learning. Gifted and talented musical pupils are recognised quickly and they are encouraged to build on their skills.
It is our vision that music lessons give the opportunity for children to become real musicians but also to take risk, explore their creativity and build on their curriculum knowledge.
The children participate in singing, tuned and untuned percussion work, composition, and listening to live and recorded music. All children are taught the skills to be able to compose using musical instruments and Garage Band.
During their music lessons they will also be learning songs in different languages, celebrating the different cultures within the school. We also welcome visitors into school whenever possible so the children can listen to live music.
Singing is highly important part of our day- walking into the corridors of schools one can often join in with a song. The value of music is recognised by all the staff and all children are welcome to join our 2 choirs.
Daily music and movement sessions in Reception class help to develop children's confidence and self-esteem, concentration and creativity, whilst also enjoying the community aspect of learning and singing.
We build on the musical horizons of each child and we strongly believe that children should be given the opportunity to share their musical skills at different events both in and outside school. It is our aim that each child becomes a confident performer, however we take each child are their own speed and we support children who are less confident and encourage them to flourish.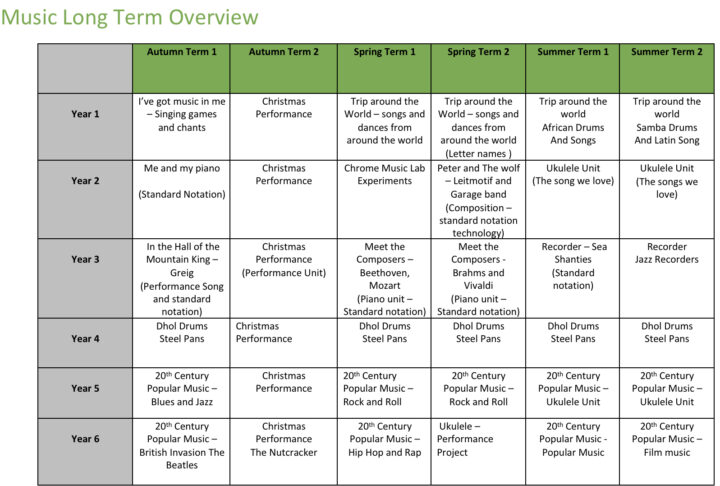 Please Click Here to download lyrics and backing tracks for all singing that happens in school.