Making a Difference
At Mere Green our aim is to ensure that children thrive as a result of their enriched and exciting education experience. We foster a love of learning, supporting pupils to achieve their optimum potential, ensuring that they are prepared for the next stage in their education. Through our caring and nurturing approach, we aim to create well rounded, confident and happy children who become responsible citizens making a positive contribution to the community.
Our school motto is 'Making a Difference'. This underpins everything we do and the decisions we make. Children are encouraged to 'make a difference' for themselves, the school community and beyond. The school motto is supported by our 6 values: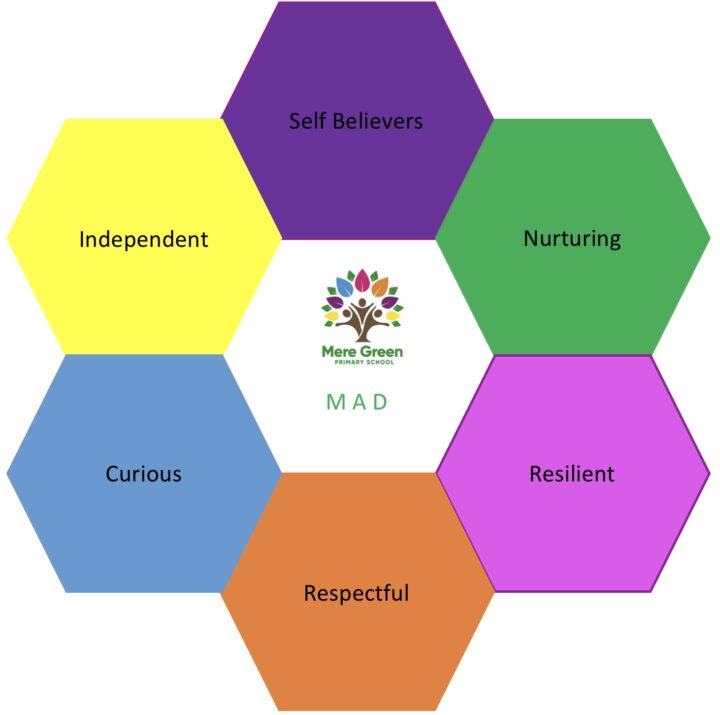 Mere Green Houses
Together with individual reward systems, our houses foster a spirit of togetherness and team work. Our house names reflect who we are and what is important to us:
Kindness
Respect
Friendship
Loyalty
Children are allocated to a house when they start at Mere Green and remain in that house for the duration of their time at school.
Each child can gain rewards across the year for achieving house points as well as rewards for the winning house.